KSP Recruitment 2022 KSISF PSI 63 Posts for Apply Online
KSP Recruitment 2022: Applications are invited from qualified and interested candidates for filling the post of Karnataka State Industrial Security Force (KSISF) Police Sub Inspector in the Police Department of Karnataka State. Read the full details of the number of posts, place of work, educational qualification, salary, selection process, and other information in the post below.
KSP Recruitment 2022: Details of Vacancies
Position: Police Sub Inspector (KSISF) (Male & Female & Third Sex)
Place: Candidates selected for the post must perform the job in Karnataka.
No. of Vacancies: Applications are invited for filling up 63 vacancies.
Salary: Rs. 37,900 to Rs. Wages are paid in the 70,850 range.
Age Limit: Candidate should be at least 21 years of age as of March 03, 2022, and maximum age of 28 years for candidates of upper caste / PM / other backward classes and maximum age of 26 years for other candidates.
Eligibility: The last date for applying for a degree or equivalent degree at a recognized university recognized by UGC is 03.03.2022.
Selection Procedure: Candidates will be selected for the post of the fitness test, endurance test and physical fitness test, written test, and medical examination.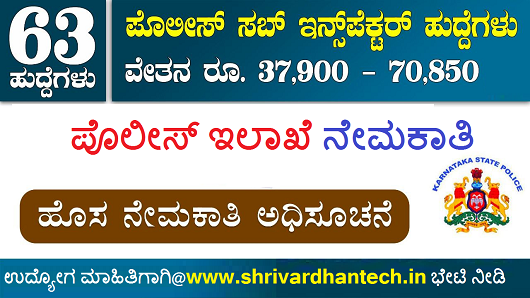 ಕರ್ನಾಟಕ ಸೆಂಟ್ರಲ್ ಕೋ-ಆಪರೇಟಿವ್ ಬ್ಯಾಂಕ್ ನೇರ ನೇಮಕಾತಿ

ಮಹಿಳಾ ಮತ್ತು ಮಕ್ಕಳ ಅಭಿವೃದ್ಧಿ ಇಲಾಖೆಯಿಂದ ಜಿಲ್ಲೆಯ ಅಂಗನವಾಡಿ ಕೇಂದ್ರಗಳಲ್ಲಿ ಅಗತ್ಯವಿರುವ ಕಾರ್ಯಕರ್ತೆ ಹಾಗೂ ಸಹಾಯಕಿ ಹುದ್ದೆಗಳ ಭರ್ತಿಗೆ ಅರ್ಹ ಮಹಿಳಾ ಅಭ್ಯರ್ಥಿಗಳಿಂದ ಅರ್ಜಿಗಳನ್ನು ಆಹ್ವಾನಿಸಲಾಗಿದೆ

KPTCL ನೇಮಕಾತಿ 2022 – 1492 ಜೂನಿಯರ್ ಅಸಿಸ್ಟೆಂಟ್, ಜೂನಿಯರ್ ಇಂಜಿನಿಯರ್, ಅಸಿಸ್ಟೆಂಟ್ ಇಂಜಿನಿಯರ್ ಹುದ್ದೆಗಳಿಗೆ ಆನ್‌ಲೈನ್‌ನಲ್ಲಿ ಅರ್ಜಿ ಸಲ್ಲಿಕೆ ಪ್ರಕ್ರಿಯೆ ಆರಂಭವಾಗಿದೆ.

ಜಿಲ್ಲಾ ಸಹಕಾರ ಹಾಲು ಉತ್ಪಾದಕರ ಸಂಘಗಳ ಒಕ್ಕೂಟ ನಿಯಮಿತದಲ್ಲಿ ಅಗತ್ಯವಿರುವ ವಿವಿಧ ಹುದ್ದೆಗಳ ಭರ್ತಿಗೆ ಅರ್ಹ ಹಾಗೂ ಆಸಕ್ತ ಅಭ್ಯರ್ಥಿಗಳಿಂದ ಅರ್ಜಿ
Method of application for the post of Police Sub Inspector (KSISF):
Eligible and interested candidates who wish to apply for these vacancies should submit their applications online.
Candidates should visit the official website of the Karnataka Police Department, fill in all the required information in the online application (for example candidate's name, qualification, email address, etc.), and submit the application form with the prescribed application fee.
Details of Specific Application Fee:
For General Category, Category 2A, 2B, 3A, and 3B candidates Rs. 500
Candidates in SC, ST, and Category I will get Rs. 250
Payment Procedure: Pay the prescribed fee in cash or online at local post offices or HDFC Bank's official branches
Date of submission of application:
Start date for application submission: February 10, 2022
Deadline for application submission: March 03, 2022
Deadline for payment of fees: March 05, 2022
KSP Recruitment 2022: Important Links
KSP Recruitment 2022 KSISF PSI 63 Posts for Apply Online
** Belagavi Zilla panchayat recruitment 2021
For regularly updates . Dear reader's pleases Bookmark our website. Thank you
If you want to ask any questions related to KSP Recruitment 2022 KSISF PSI 63 Posts for Apply Online, you can ask us by messaging in the comment section, You will get a reply shortly.
Thank you for downloading |
Disclaimer/ Notice: This is all documents & PDF notes, Books & Magazines (Education & Knowledge Propose Only). we have downloaded the Source from (WhatsApp & Telegram Groups) also the internet. I am not responsible for any type of copyright issues If I have any complaint regarding this. We are trying to remove this content shorty. Contact: admin
IF You are Satisfied By our www.shrivardhantech.in (Website) Kindly requesting Share. Sharing is Caring (Thank you ).