Shamanur Shivashankarappa Scholarship 2023 Apply Online,Selected List
Candidates from economically disadvantaged societies can now apply for the Shamanur Shivashankarappa Scholarship to continue their education. This article contains information about the Shamanur Shivashankarappa Scholarship and the requirements that applicants must meet in order to be considered for a scholarship. Additionally, we provided information on the step-by-step process that candidates will use to submit their applications for the scholarship.
Information on the Shamanur Shivashankarappa Scholarship
One of the scholarship programmes offered by the Karnataka Government for applicants whose household income is less than Rupees 100000 is Shamanur Shivashankarappa. Starting on July 1st, candidates will be able to submit applications for the scholarship. However, aspirants should keep in mind that the scholarship's deadline is July 26, 2023 Your application and all other documentation must be submitted by the deadline of July 16, 2023.
Details Of Shamanur Shivashankarappa Scholarship 2023
| | |
| --- | --- |
| Name | Shamanur Shivashankarappa Scholarship 2023 |
| Launched | Shamanur Shivashankarappa Karnataka |
| Funds | Providing monetary funds |
| Number of Candidates | Students of Karnataka state |
| Official site | Shamanur Shivashankarappa |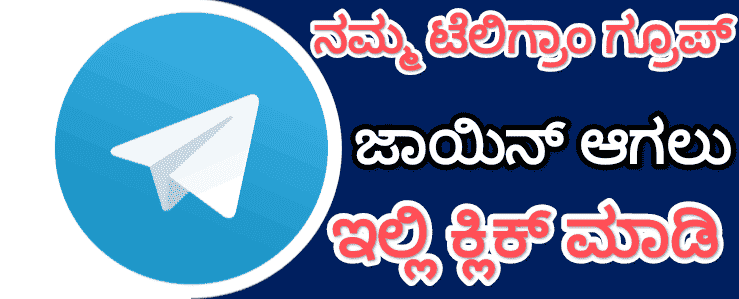 Significant Dates
The deadline to apply online is July 16, 2023.
eligibility requirements
To be eligible to apply for the scholarship, the candidate must meet the requirements listed below:-
The candidate must reside in Karnataka state permanently.
An applicant's maximum annual family income from all sources is INR 1 lac.
He or she must have received admission to a reputable institution's regular courses.
Part-time students and those enrolled in correspondence courses are ineligible to apply.
Course Qualifications
Students enrolled in the following programmes may apply for the scholarship
| | |
| --- | --- |
| Courses | Cut-off Percentage % |
| PUC, MBBS | 90 % marks(if a student is pursuing PUC, he or she has to a minimum of 90 % marks in 10th/SSLC) |
| Diploma, B.Sc., B.Com, B.E., BVSC | 85 % |
| BCA, BBM/BBA, BA, BDS, B.Pharma, MA, M.Sc, M.Com, B.Ed. | 80 % |
| CA, MCA, MBA, M.Phil, M.Tech, M.Ped | 75 % |
Details of scholarship awards
The following prizes will be awarded to the candidates in this scholarship
A specified amount is received for financial assistance of meritorious and poor students till the completion of the course.
Distribution of Scholarships
The scholarship amount will be transferred directly to the account holder's bank account. There is no cash in hand or physical process for disbursement of the scholarship.
Required document
The following documents are required to be submitted in this scholarship
SSLC/ 10th and PUC/ 12th Marks
Previous Semester / Year Marks List (If studying UG or PG)
Income certificate
Copy of identity card issued by the organization
Copy of Aadhaar Card
Attach a passport size photograph in the printed application
Student bank passbook copy
Copy of admission/fee receipt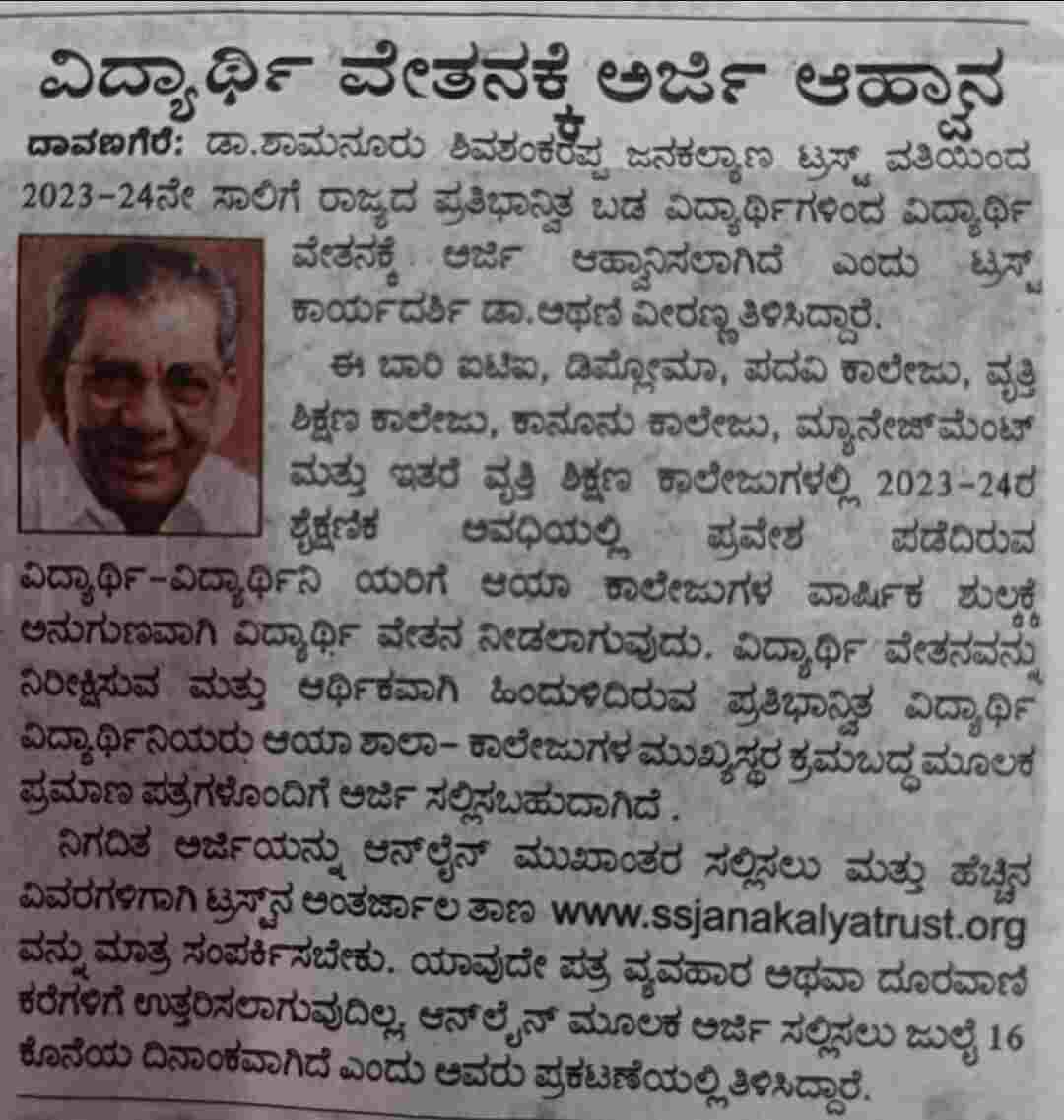 Procedure to Apply Under Scholarship 2023
To apply for the scholarship you need to follow the simple procedure given below:


Read all instructions given there carefully.
Now you have to click on Apply Online option
Enter your personal details, education details and bank details.
Mark the declaration and click on "Submit" button.
Send the print out of the application form along with the required documents by courier, post or in person to:
Secretary
Dr Shamanur Shivshankarappa Janakalyana Trust C/o. RL Law College, Behind Bapuji Educational Association Head Office, PJ Extension, Davangere-577002, Karnataka, India
Scholarship Application Status
If you want to check the application status, you have to follow the simple procedure given below:-
Click on the link to go to the official web page to check your status
A new page will be displayed on your screen
Click on Check Status
Login using your credentials.
Enter your details
The status will be displayed on your screen.
Shamanur Shivashankarappa Scholarship Selection List
Go to the official website of the scholarship scheme.
The home page of the website will open.
Select the Shamanur Shivashankarappa Scholarship Shortlist option.

The page opens, "We have directly deposited the scholarship amount into the bank account of the selected students. Students can check their bank account".
Now you need to check your bank accounts.
Shamanur Shivashankarappa Scholarship 2023 Apply Online
Check scholarship Cut off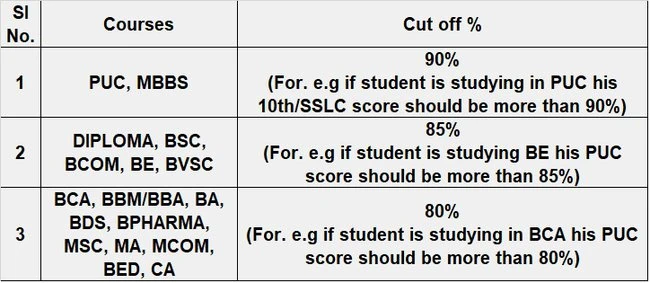 Contact details
Address: Dr. Shamanur Shivashankarappa Janakalyana Trust, C/O. RL Law College, Behind Bapuji Educational Association Head Office, PJ Extension, Davangere-577002, Karnataka. India
Email: [email protected]