Pradhan Mantri Awas Yojana Online Form 2022
Pradhan Mantri Awas Yojana Online Form 2022 is for those people who want to avail the benefits of the Central Government Housing Scheme for All. Such people can apply for housing units by selecting Pradhan Mantri Awas Yojana Online Registration 2021-2022 and filling out the Pradhan Mantri Awas Yojana Form.
Raman Research Fellowship 2022-23 Apply Online, Last Date, Eligibility Criteria Excellent
Earlier, the last date to apply for the PMAY scheme and get a subsidy on a home loan was March 31, 2022. However, with the Union Cabinet extending the deadline for PMAY-Urban and PMAY-Rural till December 31, 2024, applicants will be able to apply for houses under the scheme for a longer period.
DHFWS Karnataka Recruitment 2022 Apply Online For 320 Pharmacy Officer, Junior Health Assistant @ Karunadu.karnataka.gov.in Excellent
Documents for PMAY Registration
applicant's Aadhar card
Income proof of the applicant
Applicant's mobile number
residential address of the applicant
photograph of the applicant
Bank account details in which PMAY subsidy will be credited
SSP Pre Matric Scholarship, SSP Pre Matric Scholarship 2022, SSP Pre Matric Scholarship 2022 Last Date, Eligibility Criteria, Status of SSP, Apply online.
How to fill PMAY form online?
Step 2: On the main page, click on the 'Citizen Assessment' option and select 'Apply Online from the drop-down menu. You will see four options. Choose the one that applies to you.
Step 3: To apply online for PMAY 2022, select the option 'In Situ Slum Redevelopment (ISSR)'. The next page will ask you for your Aadhar number and name. Fill in the details and click on 'Check' to verify your Aadhaar details.
Step 4: A description – Format A – will appear. This form requires all your details. Fill each column carefully.
Step 5: After filling in all the details for PMAY 2021, enter the captcha and click on the 'Submit' button. Your PMAY 2021 online application is complete.
How to Download the PMAY Online Form?
Step 1: Visit the official PMAY website, pmay mis.gov.in
Step 2: You will get an option to access your PMAY online form by providing your father's name and mobile number or through an assessee ID. Select your option and fill in the relevant details.
Step 3: Now you will be able to view and download your PMAY online form.
LIC HFL Vidyadhan Scholarship 2022 Apply Online, Login & Last Date Excellent
PMAY Application Form 2022 (Offline)
Applicants can fill out the PMAY online form offline at State-Common Service Centers (CSCs) or banks empaneled under PMAY. You will have to pay a nominal fee of Rs 25 to fill out the PMAY 2021 registration form.
Documents Required for Offline PMAY Application
Listed below are the documents that you need to attach with your PMAY 2021 application at the time of submission:
ID proof copy
Address proof copy
copy of Aadhar card
copy of income proof
property valuation certificate
NOC from Competent Authority
The affidavit states that you or your family do not have any house in India.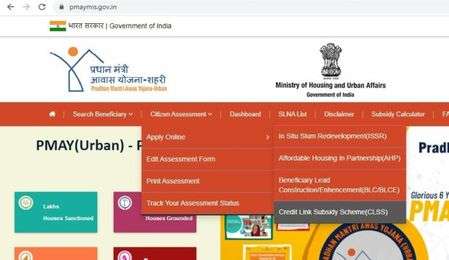 PMAY Registration 2022 Eligibility
You must be 18 years of age or older.
You cannot own a house anywhere in India.
You should not have received any government grant to buy a house in the past.
Low Income Group (LIG)
Economically Weaker Section (EWS)
middle-income group (MIG 1 or 2)
Note that this classification is based on the applicant's annual income.
Prize Money Scholarship Sw.kar.nic.in – Prize Money Scholarship 2022 Last Date (PUC, SSLC) SC, ST, OBC
Who is not eligible for houses under PMAY 2022?
Whose annual income is more than 18 lakhs?
Those who have a purchase house anywhere in the country.
Should have taken any government grant in the past to buy a house.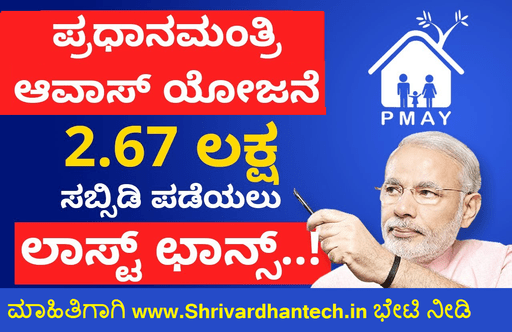 Types of PMAY Online Form
You can apply for PMAY 2021 under two broad categories:
Beneficiary
The annual income of
the household
Economically Weaker Section (EWS)
Up to Rs 3 lakhs
Lower Income Group (LIG)
Rs 3 – 6 lakhs
Middle Income Group-1 (MIG-1)
Rs 6 – 12 lakhs
Middle Income Group-2 (MIG-2)
Rs 12 – 18 lakhs
Slum dwellers are slum dwellers who live in poor living conditions in informal settlements of cities.
Others: Under this category, PMAY applicants are divided into four subcategories:

IF You are Satisfied By our www.shrivardhantech.in (Website) Kindly requesting Share. Sharing isCaring (Thank you for sharing ).

Karnataka Free Laptop Scheme Details Eligibility How To Apply And Application Form Required Documents
contact details
For any further assistance, you may also contact the Offices of the Ministry of Housing in New Delhi.
Raj Kumar Gautam
Director (HFA – 5)
Ministry of Housing and Urban Affairs (MOHUA)
Room No. 118, G Wing
NBO Building
construction building
New Delhi – 110011
You can call and email the following numbers and mail ids.
Tel: 011-23060484/011-23063285
E-mail: [email protected]/ [email protected]
Pm Kcc Kisan Credit Card Pmkisan.gov.in KCC Form 2022 Kisan Credit Card Loan Apply PM KCC Application Form Status, Interest Rate,apply Now
How to Check PMAY Application Status?
You can check the status of your PMAY application by using your Assessment ID or Aadhaar Number or other personal details. Read more on this topic in our guide on PMAY Status Check.
PMAY: Contact for complaint
If you have any problem with the PMAY form you can call, email, or visit the offices of the Ministry of Housing in person.
Phone Number: 011-23060484
011-23063285
Email ID: [email protected]/[email protected]
Address: Mohua, Room No. 118, G Wing
NBO Building
construction building
New Delhi – 110011