Ganga Kalyana Scheme 2022-23,Yojana, Application invitation for 2 lakh subsidy under Ganga Kalyan Yojana 2022
Karnataka State Government has launched Karnataka Ganga Kalyan Yojana to help the farmers of the state. Under this scheme, the Government of Karnataka will provide a drilled borewell or open well or lift irrigation facility with a pump installed by the Karnataka Minorities Development Corporation (KDMC) to the eligible and needy beneficiaries of the state. In this article, we will look at Ganga Kalyan Yojana in full detail, like how to apply, how to process the application, where to apply, etc.
Vidyasiri Scholarship 2022-23 Apply Online, Eligibility, Last Date, Renewal, Check Status, Selection List
Salient Features of Ganga Kalyan Yojana
Below are some of the provisions the government has made under this scheme of the Ganga Kalyan Yojana Karnataka state
The objective of this scheme is to provide proper irrigation facilities to the small farmers who cannot utilize the water resources in their land through open wells, borewells, or other lift irrigation schemes.
Small or micro farmers get water resources from the government
Financial Assistance: If perennial water sources are not available, KDMC will provide a loan for the construction of individual borewells at water points recommended by expert geologists. The government provides financial assistance to farmers for the construction of borewells and open wells on suitable land. KDMC will provide this financial assistance. For the cost of construction of wells and irrigation systems, the Karnataka State Government has allocated Rs. 1.5 lakh per beneficiary for the promotion of agricultural activities
Eligibility criteria for the Ganga Kalyana scheme
This Ganga Kalyan Yojana of the Karnataka State Government is applicable to those farmers of the state who fulfill the following criteria:
Ganga Kalyana scheme for minorities, Sc/St
Applicants must belong to the minority community
Applicant must be a permanent citizen of Karnataka
He must be a small or very small farmer
The annual family income of the applicant should not exceed Rs 22,000 per annum. from all sources
Note: Farmers having land less than 5 acres who have 7 minority family members can also avail lift irrigation facility under Ganga Kalyan Yojana in Karnataka.
Individual Borewell – Eligibility Criteria
The eligibility criteria for individual borewell or open well similar to lift irrigation facility are as follows:
KDMC subsidizes the construction of individual borewells and supervises the construction and maintenance of wells. After five years, under the scheme, the operation of such wells as well as pumps and other types of wells will be monitored by consumer cooperative societies.
Farmers with a minimum of 2 acres and a maximum of 5 acres of land and no permanent water supply nearby will get a well from the state.
The cost of the scheme is Rs 1,50,000 per beneficiary, which includes pump and energy costs.
National Overseas Scholarship for obc students 2022,portal,apply online,karnataka, general category students,login, india, apply
Ganga Kalyana Scheme for Obc
Applicants belonging to Backward Classes Category-1, 2A, 3A, and 3B except for Vishwakarma, Uppara, Ambiga, Savita, Madiwala, Nomadic, and Semi Nomadic Community, Okkaliga, Lingayat, Kadugolla, Hattigolla, Maratha and its sub-community can apply.
Should have minimum 2 acres, maximum 5 acres of land.
Annual income should not exceed 40 thousand.
Key Highlights Of Karnataka Ganga Kalyana Scheme
Scheme Name
Karnataka Ganga Kalyana
Scheme/yojana
Launched
Karnataka government
Beneficiary
Citizens Of Karnataka
Objective
To Provide Irrigation Facilities
Home
Click Here
Year
2022
State
Karnataka
Mode Of Application
Online/Offline
Ganga Kalyana Application Last date
As per the ganag Kalyana scheme, the application last date is 20 August 2022
How to apply Ganga kalyana yojana Online
Eligible beneficiaries can apply for Ganga Kalyan Yojana/scheme through the following steps:
Step 1: Applicants can visit the official website to apply for the scheme. (Application link is given below on this website)
Step 2: Click on the "Application Form" option under the "Citizen's Corner" menu on the home page.
Step 3: Now click on the download option to download the application form in PDF format.
Step 4: Fill all the required details in the application form, and applicants need to submit the filled application form to the district magistrate of their respective districts.
Step 5: After verification by the District Magistrate and Taluk Committee, the selected applications are transferred to the concerned department for further processing.
This scheme will not only help the farmers of the state to increase their production but will also help in promoting agriculture in the state.
Ganga Kalyan Yojana 2022-23 Karnataka
Ganga Kalyan Yojana was started in 1983. It is the social responsibility of BESCOM and GoK to empower the backward farmer IP sets of SC, ST, BCM, KMDC, KVKDC, KADC, UDC, NSACDC, and KBDC.
Ganga Kalyan consists of 9 corporations:
Dr. BR Ambedkar Development Corporation (SC)
Karnataka State Tribal Development Corporation (ST)
D. Devaraju State Backward Classes Development Corporation (BCM)
Karnataka Minorities Development Corporation (KMDC)
Karnataka Vishwakarma Community Development Corporation (KVCDC)
Karnataka Adijambhava Development Corporation (KADC)
Uppra Development Corporation (UDC)
Nija Saran Ambigar Choudhary Development Corporation (NSACDC)
Karnataka Bhovi Development Corporation (KBDC)
Beneficiaries of all 9 corporations should be made available to the BESCOM sub-divisional office by the district officers of the respective corporations with their seal and signature.
Documents for Ganga Kalyana scheme
Project report
Caste certificate
Income certificate
Aadhar card
BPL card
Latest RTC
Small and marginal farmers' certificates issued by the competent authority
Copy of bank passbook
Land revenue paid receipt
Self-declaration form
Self-declaration form from the surety
eg. Sub-division will have to submit RTC, water rights certificate, borewell certificate, caste certificate, survey number and Rs 50 registration fee receipt.
The concerned divisional officers will inspect the site and prepare the estimate list and submit the estimate through the sub-divisional office and give a copy of the electricity approval letter to the consumers through the sub-divisional office to the district office of the respective corporations.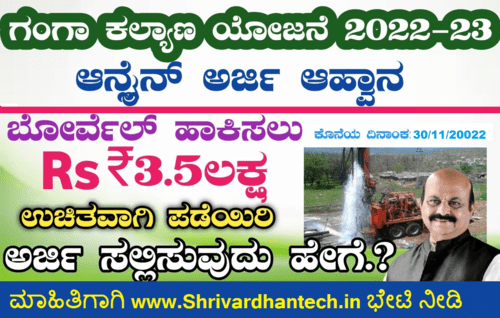 The following are the deposits for different IP sets to be paid by all the corporate beneficiaries, as detailed in the power sanction letter:
Registration Fee = Rs.50/-
Initial Security Deposit: 1 HP = Rs.1290/-
Meter Security Deposit = Rs.3000/-
Meter Box = Rs.2100/-
Supervision Fee = Rs.150/- + 18% GST
Procedure To Apply Under Karnataka Ganga Kalyana Scheme
Ganga Kalyana scheme online application

IF You are Satisfied By our www.shrivardhantech.in (Website) Kindly requesting Share. Sharing isCaring (Thank you for sharing ).
Contact Us
Dr. B.R. Ambedkar Development Corporation, 9th & 10th Floor, Visvesvaraya Chikka Gopuram, Dr: B.R. Ambedkar Veedi, Bangalore – 560 001.
080-22868870 [email protected]