Davangere DCC Bank Recruitment 2022 Various 48 Post for JA Driver and Apply Online
Davangere DCC Bank Recruitment 2022: Applications are invited from eligible and interested candidates to fill up various vacancies in Davangere District Central Cooperative Bank Regular. The complete number of vacancies, educational qualification, age, salary, application dates, and other information regarding filling vacancies are given below.
Davangere DCC Bank Recruitment 2022: Vacancy Details
Name of the Posts: Small Assistant / Junior Field Assistant, Computer Engineer, Computer Operator, Motor Driver, Junior Sevak (Attendant)
Location of Duties:
Candidates selected for the post should be working in Davangere District.
Number of Vacancies in DCC Bank Recruitment 2022:
A total of 48 vacancies are filled.
ಹುದ್ದೆ
ಹುದ್ದೆಗಳ ಸಂಖ್ಯೆ
ವೇತನ
ಕಿರಿಯ ಸಹಾಯಕರು
/small helper
29
30350-58250
ಕಂಪ್ಯೂಟರ್ ಇಂಜಿನಿಯರ್
/Computer Engineer
1
33450-62600
ಕಂಪ್ಯೂಟರ್ ಆಪರೇಟರ್
/Computer Operator
1
30350-58250
ವಾಹನ ಚಾಲಕರು
/ Driver
1
27650-52650
ಕಿರಿಯ ಸೇವಕರು
/petty servant
16
23500-47650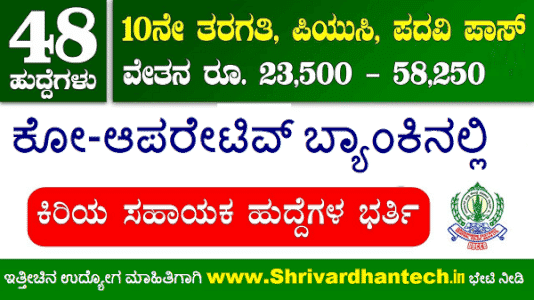 Educational qualification For DCC Bank Jobs 2022:
Small Assistant post: Any Degree passed from a recognized University. Preference will be given to those having study, knowledge, and experience in computers and collaboration.
Computer Engineer post: Computer Programmer from a recognized University, B.E. Candidates should have passed CS, E&C, E&E Engineering/ MCA Degree.
Computer Operator: Secondary PUC or three years Diploma in Commercial Practice.
Motor Driver – Must have passed at least 10th class / SSLC and should have a valid Light Driving License, Badge.
Minor Servant (Attendant)post: Passed SSLC
Age Limit:
Candidates should have a minimum age of 18 years, maximum of 35 years
for general category candidates:- a maximum of 38 years
for backward class candidates:- and 40 years
for SC / ST / Category I candidates:- candidates as of the last date of application.
Selection Process Dcc bank recruitment 2022:
1) A written Exam will be conducted for the eligible candidates.
2) Prepare a merit list on the basis of marks obtained in the written test and call for an interview in the ratio of 1:5.
3) The average mark obtained in the written examination is one percent.
4) Recruitment will be done by recruiting a list of eligible candidates,
5) following reservation rules and reducing the number of entry points to 85%.
New Employment Notice: Karnataka Postal Circle Recruitment 2022
How to apply for Davangere DCC Bank Recruitment 2022
1) Eligible and interested candidates who wish to apply for these vacancies should submit their applications online.
2) Candidates should visit the official website..,(website link is given below)
3) Fill out all the required information in the online application (for example name of the candidate, qualification, email address, etc.) and submit the application form along with the prescribed application fee.
Davangere DCC Bank Recruitment Application Fee Details:
General and OBC Candidates Rs. SC/ ST/ ST candidates under Rs. 500 to be paid.
Mode of Payment:
Candidates can pay online through Debit Card, Credit Card, and Net Banking.
Application Submission Date for Davangere DCC Bank Recruitment:
** Starting Date to Apply: 02 May 2022
** Last date to apply: 01 June 2022
Davangere DCC Bank Recruitment 2022: Important Links
For regularly updates . Dear reader's pleases Bookmark our website. Thank you
If you want to ask any questions related to Davangere DCC Bank Recruitment 2022 Various 48 Post for JA Driver and Apply Online, you can ask us by messaging in the comment section, You will get a reply shortly.
Thank you for downloading Karnataka high court recruitment 2022|
Disclaimer/ Notice: This is all documents & PDF notes, Books & Magazines (Education & Knowledge Propose Only). we have downloaded the Source from (WhatsApp & Telegram Groups) also the internet. I am not responsible for any type of copyright issues If I have any complaints regarding this. We are trying to remove this content shorty. Contact: admin
IF You are Satisfied By our www.shrivardhantech.in (Website) Kindly requesting Share. Sharing is Caring (Thank you ).