AE & JE Re Exam Admit Card Hall Ticket 2021
AE & JE Re-Exam Admit Card Hall Ticket 2021
AE & JE Re-Exam Admit Card Hall Ticket 2021 Hall Ticket (Admit Card) 2021 Karnataka The Assistant Engineers of the Department of Public Works Department (General) of the Division-1 (Civil) posts (For Candidates who have missed the examination due to train delay) will be re-examined on 29-12-2021. Admit Card 2021 Download.
Type of File : Circular.
Language : Kannada/English
Which Department : Education/
Announced:- AE & JE Re-Exam Admit Card Hall Ticket 2021 Gurukul Career Academy, Dharwad;
Purpose of Information : Employee..
Information Size : 852kb.
Number of Pages : 08.
Scanned Copy : Yes.
Information Editable Text : No.
Location : Karnataka
Published Date : 2021
Information Term : Short
Download Link Available : Yes
Copy Text : No
Information Print Enable : Yes
File Quality : High
File size Reduced: No
File Password : No
Rate : Free of cost
For Personal Use Only
Use e-paper to Save water and Save lives.!!!!!!!
Gurukul Academy General Knowledge Model Question Paper Click here to download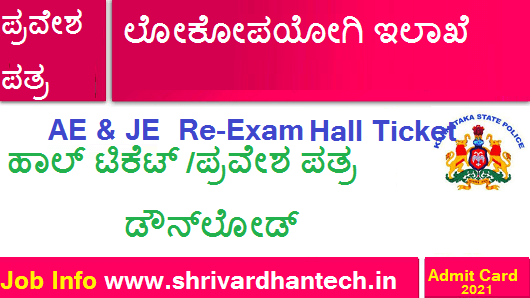 Notif AE & JE Re-Exam Admit Card Hall Ticket 2021
Recruiting Organisation
AE & JE Re-Exam Admit Card Hall Ticket 2021
Name of Posts
AE & JE
Download
Hall Ticket
Click here
Offical Website
Click here
Home
CLICK HERE
AE & JE Re Exam Admit Card
If you want to ask any questions related to AE & JE Re Exam Admit CardHall ticket 2021, you can ask us by messaging in the comment section, You will get a reply shortly.
Disclaimer/ Notice: This is all documents & PDF notes, Books & Magazines (Education & Knowledge Propose Only). we have downloaded the Source from (WhatsApp & Telegram Groups) also the internet. I am not responsible for any type of copyright issues If I have any complaint regarding this. We are trying to remove this content shorty. Contact: admin
IF You are Satisfied By our www.shrivardhantech.in (Website) Kindly requesting Share. Sharing is Caring (Thank you ).