the great stupa at sanchi world heritage journeys buddha statue
SANCHI STUPA, Single (one of the ) oldest stone Buddhist monuments in India stands inside an ancient Buddhist complex, situated on top a hill in Sanchi.
☘️The Great Stupa at Sanchi, also known as Stupa No.1, was commissioned by the Mauryan Emperor Ashoka in the 3rd century BCE. With a height 54 feet and a pedestal diameter of 120 feet, it is the largest of its kind in India.
☘️The grand structure still inspires today surrounded by the remains of smaller stupas, monasteries, and temples that were built as the religious community grew in the centuries after the site was founded.
☘️TORANAS:-
The Great Stupa's 4 elaborately-carved Toranas (gateways), 1 in each direction, were erected around 35 BCE.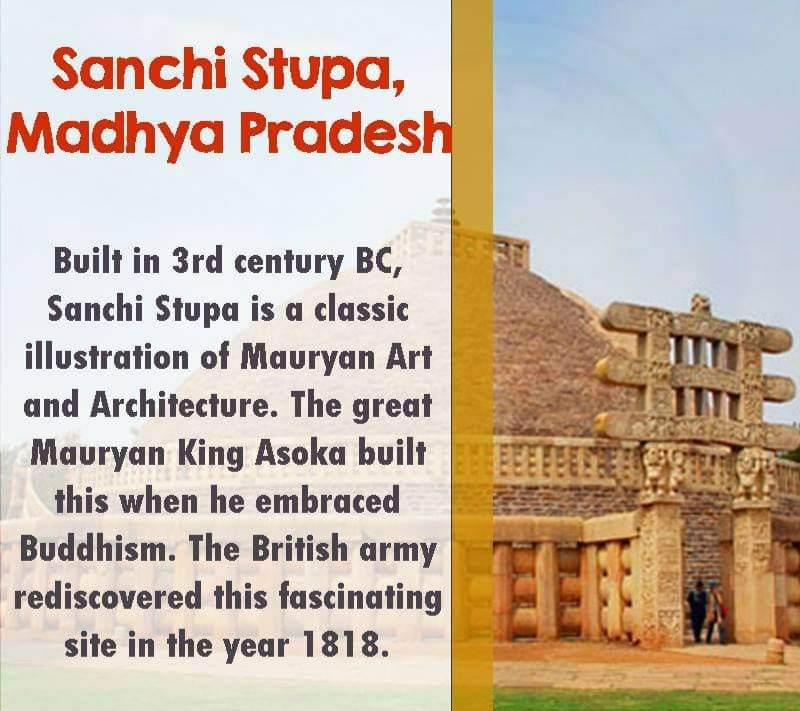 ☘️Elephants support the architraves above the columns, while there are delicately carved Yakshis (maidens) on each side. The beautifully carved figure of a Yakshi hanging from an architecture at the eastern gateway is one of the most famous images of Sanchi..
☘️The numerous panels relate various events of the life of the Buddha. Ashoka's life as a Buddhist, with scenes of Buddha's birth and another representation of the great departure.
Sanchi Stupa, a UNESCO World Heritage Site( place), a landmark structure in tracing the evolution of Indian architecture starting with the Maurya's period – is 48 kilo meter from Bhopal, MadhyaPradesh.