South Eastern Railway Recruitment 2021 Apply for 1785 Apprentice posts on rrcser.co.in- Direct link to apply online here

South Eastern Railway Recruitment 2021: Apply for 1785 Apprentice posts on rrcser.co.in- Direct link to apply online here . South Eastern Railway Recruitment 2021 has invited applications from the right eligible and those who are interested candidates to apply the South Eastern Railway Recruitment 2021 Apply for 1785 Apprentice posts on rrcser.co.in- Direct link to apply online here Posts online from official notification November 2021 link is given below download the notification and apply. Job searchers who are looking for a bright career in Shimoga district, the Government of india can make sure use of this very good opportunity. who are interested candidates can Apply Online before 30-12-2021
South Eastern Railway Recruitment Vacancy Notification

Organization Name:- Railway Recruitment
Number of posts: 1785
Job Location in India
Name of the Post: Apprentice
Salary:- Rs.19950-37900/- Per Month only
South Eastern Railway Recruitment 2021: Vacancy details
Kharagpur Workshop: 360 Posts
Signal and Telecom (Workshop)/Kharagpur: 87 Posts
Track Machine Workshop/Kharagpur: 120 Posts
SSE (Works)/Engg/Kharagpur: 28 Posts
Carriage and Wagon Depot/Kharagpur: 121 Posts
Diesel Loco Shed/Kharagpur: 50 Posts
Senior Dee (G)/Kharagpur: 90 Posts
TRD Depot/Electrical/Kharagpur: 40 Posts
EMU Shed/Electrical/TPKR: 40 Posts
Electric Loco shed/Santragachi: 36 Posts
Senior DEE (G)/Chakradharpur: 93 Posts
Electronic Traction Depot/Chakradharpur: 30 Posts
Carriage & Wagon Depot/Chakradharpur: 65 Posts
Electric Loco Shed/Tata: 72 Posts
Engineering Workshop/Sini: 100 Posts
Track Machine Workshop/Sini: 7 Posts
SSE (Works)/Engg/Chakradharpur: 26 Posts
Electric Loco Shed/Bondamunda: 50 Posts
Diesel Loco Shed/Bondamunda: 52 Posts
Senior DEE (G)/Adra: 30 Posts
Carriage and Wagon Depot/Adra: 30 Posts
Carriage and Wogon Depot/Adra: 65 Posts
Diesel Loco Shed/BKSC: 33 Posts
TRD Depot/Electrical/ADRA: 30 Posts
Electric Loco Shed/BKSC: 31 Posts
Flash Butt Welding Plant/Jharsuguda: 25 Posts
SSE (Works)/Engg/ADRA: 24 Posts
Carriage & Wagon Depot Ranchi: 30 Posts
Senior DEE (G)/Ranchi: 30 Posts
TRD Depot/Electrical/Ranchi: 10 Posts
SSE (Works)/Engg/Ranchi: 10 Posts
South Eastern Railway Recruitment 2021 Eligibility Details

Educational Qualification:- As per the official notification of Shimoga District Court candidates must have completed 10th / SSLC from recognized boards or Universities. and an ITI pass certificate (trade in which Apprenticeship is to be done) granted by the NCVT.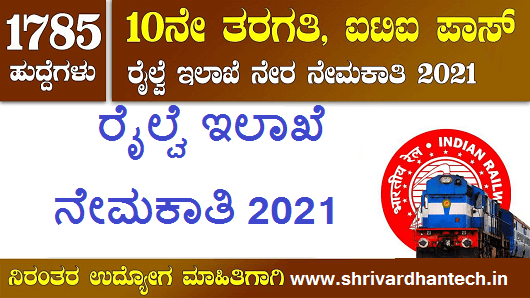 Age Limit:- As per the Recruitment Notification of South Eastern Railway Recruitment, the Candidate must have a min age of 15 years and a max of 24 years.
Age Relaxation:
2A, 2B, 3A, 3B Candidates for 3 Years
SC, ST Candidates for 5 Years
Application Fee or amount:
General Candidates for 200/-
2A, 2B, 3A, 3B Candidates for 100/-
SC, ST Candidates for Null
Selection Process:-
Written Test / Interview
How to apply for South Eastern Railway Recruitment 2021
First of all, go through the recruitment notification 2021 read thoroughly, and make sure that the candidate fulfills the eligibility criteria( The recruitment website link is given below click there).
Before the start of filling up the application through the mode of Online, kindly have the correct email ID of Gmail ID and Phone number for next communication purposes& keep the correct documents be ready such as ID proof, age, educational qualification, resume, (if any experience etc.)
Click on Apply Online:- direct link is given below.
Update all the necessary details in the Online Application. you should Upload the Scanned necessary Copies of certificates/documents along with your recent Photo (If it's applicable).
Pay the application amount as per your Category wise. (If it's applicable only)
At the end click on submit button to complete the Recruitment 2021 -22 Process. must and should Importantly Capture or take a screenshot of the application number or kind of Request number for next level reference.

Important Dates note down:-

Apply Online Start Date:November 15, 2021
Apply Online Last Date: December 14, 2021 till 11:59 PM
pay the application fee Last date: December 14, 2021 till 11:59 PM
Notification Important Links given below click for next process
If you want to ask any questions related to South Eastern Railway Recruitment 2021, you can ask us by messaging in the comment section, You will get a reply shortly.
Disclaimer/ Notice: This is all documents & PDF notes, Books & Magazines (Education & Knowledge Propose Only). we have downloaded the Source from (WhatsApp & Telegram Groups) also the internet. I am not responsible for any type of copyright issues If I have any complaint regarding this. We are trying to remove this content shorty. Contact: admin
IF You are Satisfied By our www.shrivardhantech.in (Website) Kindly requesting Share. Sharing is Caring (Thank you ).