MESCOM Provisional List 2021 Mangalore Electricity Supply Company Limited (MESCOM) Provisional Selection List for the posts of Junior Powerman
MESCOM Provisional List 2021 , Provisional Selection List for the posts of Junior Station Attendant and Junior Powerman is on our official website. where you will get daily .current affairs,.i.e questions & answer with pdf file. Gurukul model paper Which are very much helpful and useful for upcoming all exams .KAS, IAS, UPSC, PSI, FDA, BANKING, SDA,Jobs, and all kpsc others Examinations. So keep visiting our official website. For daily very important updates which will help you in upcoming all examinations..
Type of File : Circular.
Language : Kannada/English
Which Department : Education/
Announced :- MESCOM Provisional List 2021 / mescom final selection list 2021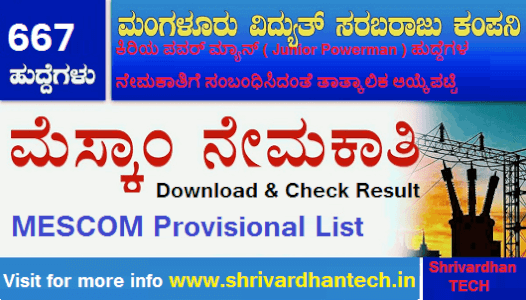 Purpose of Information : Employee..
Information Size : 852kb.
Number of Pages : 08.
Scanned Copy : Yes.
Information Editable Text : No.
Location : Karnataka
Published Date : 2021
Information Term : Short
Download Link Available : Yes
Copy Text : No
Information Print Enable : Yes
File Quality : High
File size Reduced: No
File Password : No
Rate : Free of cost
For Personal Use Only
Use e- paper to Save water and Save life's.!!!!!!
MESCOM Provisional List 2021 click here to download
Click here to check your Result All the best
667 ಕಿರಿಯ ಪವರ್ ಮ್ಯಾನ್ ( Junior Powerman ) ಹುದ್ದೆಗಳ ನೇಮಕಾತಿಗೆ ಸಂಬಂಧಿಸಿದಂತೆ ತಾತ್ಕಾಲಿಕ ಆಯ್ಕೆಪಟ್ಟಿಯನ್ನು ಇದೀಗ ಪ್ರಕಟಿಸಲಾಗಿದೆ.!!
If you want to ask any questions related to MESCOM Provisional List 2021,you can ask us by messaging in the comment section, You will get reply shortly.
Thank you for downloading |
Disclaimer/ Notice: This is all documents & PDF notes, Books & Magazines (Education & Knowledge Propose Only). we have downloaded the Source from (WhatsApp & Telegram Groups) also the internet. I am not responsible for any type of copyright issues If I have any complaint regarding this. We are trying to remove this content shorty. Contact: admin
IF You are Satisfied By our www.shrivardhantech.in (Website) Kindly requesting Share. Sharing is Caring (Thank you ).