Karnataka SSLC Important Question Paper 2023, Model Question Paper 2023, KSSEB Model Question Paper 2023
Karnataka SSLC Most Important Questions 2023 Pdf Download
Karnataka SSLC Main Question Papers 2023, Karnataka SSLC Main Model Paper 2023, Karnataka SSLC Question Papers 2023 PDF Karnataka, Karnataka SSLC (10th) Main Questions 2023, KSEEB Board SSLC Model Question Paper 2023, Karnataka New Year 2023 SSLC Model Question Paper 2023 Exam Question Download Paper 2023 pdf file…
Karnataka SSLC Important All Subjects Question Paper 2023
Karnataka Secondary Education Examination Board (KSEEB) is conducting the Secondary School Leaving Certificate (SSLC/10th Class) Public Examination 2023, which is under Karnataka State Board of School Education, KSEEB has published High School Exam Date Sheet 2023-24 for various grades. It is available on the official website, the link to download model question papers of all languages is given below
10ನೇ ತರಗತಿಯ ಎಲ್ಲಾ ವಿಷಯಗಳ ಪಾಸಿಂಗ್ ಪ್ಯಾಕೇಜ್ ಗಳು:
10th Main Questions Paper 2023 Pdf Download
THE KSEEB SSLC exam is conducted in the month of March/April, Candidates who are attempting the SSLC exam in the state should know the exam pattern and pattern and question blueprint, KSEEB 10th (SSLC) question paper 2023 download or available in different languages media like Kannada, Hindi medium, English medium, Telugu medium, Urdu medium, Marathi medium and many more. This website shrivardhantech.in provides the latest updates of Karnataka SSLC Important Model Question Paper 2023 from directly the Karnataka Board.
ರಾಜ್ಯ ಮಟ್ಟದ SSLC ವಿದ್ಯಾರ್ಥಿಗಳ KARNATAKA SSLC Telegram Group ಸೇರಲು ಈ ಕೆಳಗಿನ ಲಿಂಕ್ ಕ್ಲಿಕ್ ಮಾಡಿ..👇🏻
Karnataka 10th Model Paper 2023
Karnataka SSLC Important Question Paper 2023, candidates can also know about the different types of questions asked in the exam & the marks allotted for the respective questions, all students please can download this KSEEB SSLC Question Paper 2023 pdf file as a part of students' preparation to score more in the examination as compared to other candidates,
SSLC OLD QUESTION PAPERS WITH KEY ANSWERS:
10ನೇ ತರಗತಿ ವಿದ್ಯಾರ್ಥಿಗಳಿಗಾಗಿ ಕನ್ನಡ, ಇಂಗ್ಲೀಷ್ ಹಾಗೂ ಉರ್ದು ಮಾಧ್ಯಮಗಳ ಎಲ್ಲಾ ವಿಷಯಗಳ 2012 – 2021 ರ ವರೆಗಿನ ಉತ್ತರಗಳ ಸಹಿತ ಪ್ರಶ್ನೆಪತ್ರಿಕೆಗಳು:
Students can use these Karnataka 10th Model Question Paper 2023 to Start practicing to prepare more confidently for the 2023 exam, The KSEEB SSLC Class Previous Question Paper 2023 is created after analysis of study materials, solving these blueprints and question papers will help students to get more score.
Karnataka SSLC Model Questions 2023 pdf Karnataka
I will soon provide you with related to Karnataka SSLC Model Question Paper 2023 with Answers in a pdf file, KSEEB 10th Model Question Paper 2023 All Subjects are published by the official websites of KSEEB only, so all candidates must prepare well & always think about your aim to score passing marks in respective subjects. . https://shrivardhantech.in/ is Provides SSLC Study Material, Blueprint, and Syllabus for various subjects in Kannada, English medium in pdf file format.
Candidates/students must be studying this year's KSEEB SSLC question paper 2023 for very good preparation direct links will be useful for you to download the questions paper from these links you can find your Karnataka SSLC important questions 2023. After downloading you must study sincerely to secure more score marks.
SSLC OLD MODEL QUESTION PAPERS (without key answers):
SSLC ಪರೀಕ್ಷೆಯ 10 ವರ್ಷಗಳವರೆಗಿನ (ಜೂನ್ 2012 ರಿಂದ ಇಲ್ಲಿಯವರೆಗೆ) ಎಲ್ಲಾ ವಿಷಯಗಳ ಮಾದರಿ ಹಾಗೂ ಹಿಂದಿನ ವರ್ಷಗಳ (ಉತ್ತರ ರಹಿತ) ಪ್ರಶ್ನೆ ಪತ್ರಿಕೆಗಳು:
KAR SSLC Model Question Paper 2023 (*Latest All Subjects in Different Mediums) Pdf Download
2022-23 K.S.E.A BOARD MODEL QUESTION PAPERS AND KEY ANSWERS

First Language
Second Language
Third Language
Core Subjects
Social Science – Kannada Medium
Social Science – English Medium
MODEL Question paper KEY-ANSWERS

How to check Karnataka Important SSLC Question Paper 2023
Students should log on to the official website of Karnataka Board at www.kseeb.kar.nic.in, ( we have provided direct links here on this post, check the below table to download the model question paper 2023 syllabus-wise and medium-wise)
Then Click on the Karnataka Board SSLC or 10th class exam notification & click on it
After accessing the home page click on Karnataka Board 10th/SSLC class exam Model Question Paper 2023 & click on it
Then fill in your exam particulars such as Syllabus wise click on submit button
Then Next page will get Karnataka Board SSLC/10th class examination's most important model Question Paper 2023 in a pdf file.
Please Take the printout of all subjects KSEEB SSLC/ 10th Model Question Paper 2023 for further procedure.
First language Model Question Paper
Second Language
Third Language
Core Subjects
Social Science – Kannada Medium
Social Science – English Medium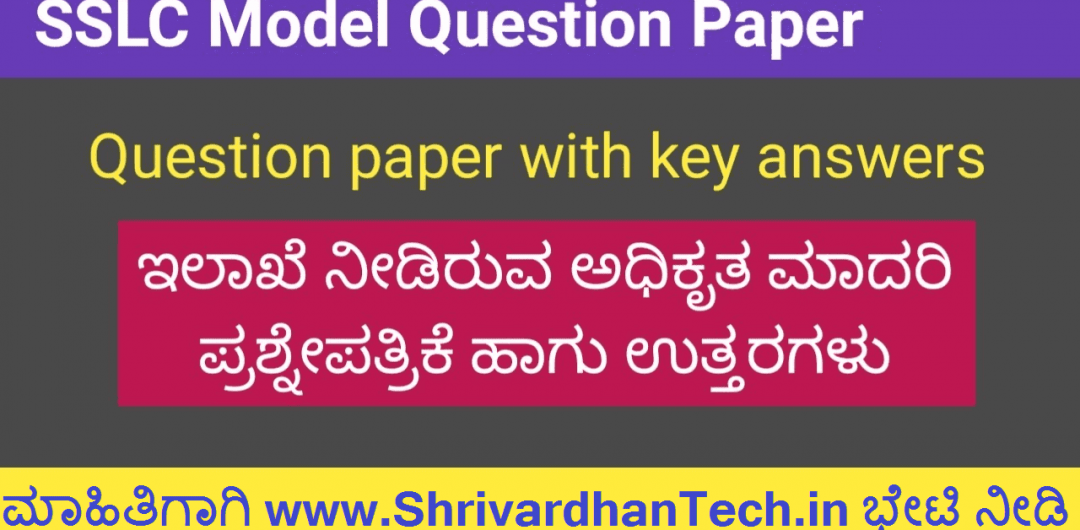 Karnataka SSLC Main Exam Model Paper 2023 for OMR based
Paper – 1:  Mathematics, Science, Social Science
Multiple Choice Questions based Model Question Paper – Set 1
O.M.R. Sheets (Core Subjects)– Paper-1
Alternate Subjects: Paper-1
Hindustani Music/Carnatic Music – 98K/E
O.M.R. Sheets (Alternate Subjects)– Paper-1
Hindustani Music/Carnatic Music – 98
Paper – 2 : Languages
Multiple Choice Questions based Model Question Papers
Third Language Konkani – 68D/K
O.M.R. Sheets (Languages) – Paper-2
N.S.Q.F. Subjects
Multiple Choice Questions Model Question Papers
Information Technology – 86K/E
(N.S.Q.F. Subjects) O.M.R.Sheets 
 J.T.S. Subjects: Paper – 3  
Multiple Choice Questions Model Question Papers
Elements of Mechanical Engineering & Electrical Engineering – 2 – 71E
Engineering Graphics – 2 – 72E
Elements of Computer Science – 74E
O.M.R. Sheets (J.T.S.Subjects) – Paper-3
Elements of Mechanical Engineering & Electrical Engineering – 2 – 71E
Engineering Graphics – 2 – 72E
Elements of Computer Science – 74E
Karnataka SSLC Question Paper 2023 Pdf Download
Maths 81 K/E Kannada/English Medium
Unrevised – For NSR/NSPR Students
Maths – 81 K/E Kannada/English Medium
For CCERR/CCEPF/CCEPR/CCERF/ Students
Science 83 K/E Kannada/English Medium
For NSR/NSPR Students: Unrevised
Science 83 K/E Kannada/English Medium
For CCERR/CCEPF/CCEPR/CCERF/ Students
Social Science 85 K/E Kannada/English Medium
Social Science 85 H Hindi Medium
Social Science 85 L Telugu Medium
Social Science 85 M Marathi Medium
Social Science 85 T Tamil Medium
Social Science 85 U Urdu Medium
Unrevised – For NSR/NSPR Students
Social Science 85 K/E Kannada/English Medium
Alternate Subjects– Paper-1
For CCERF/CCERR/CCEPF/CCEPR/NSR/NSPR Students
Sociology 95 K/E Kannada/English Medium
Economics 96 K/E Kannada/English Medium
Political Science 97 K/E Kannada/English Medium
Political Science 97 U Urdu Medium
Hindustani Music/Carnatic Music 98 K/E (Theory) Kannada/English Medium
Hindustani Music/Carnatic Music 98 K/E (Practical) Kannada/English Medium
For CCERF/CCERR/CCEPF/CCEPR/NSR/NSPR Students
: Languages – Paper – 2
Third Language Konkani – 68D/K
N.S.Q.F. Subjects – Paper – 2
Information Technology 86 (CCERF/CCERR)
Beauty & Wellness 90 (CCERF/CCERR)
J.T.S. Subjects – Paper – 3
For CCERF/CCERR Students
Elements of Mechanical Engineering & Electrical Engineering – 2 – 71E
Engineering Graphics – 2 – 72E