Job Notifications Ibps Recruitment 2020 Apply online 1557
Hello Everyone Welcome to shrivardhantech.in
Heading : Ibps Recruitment 2020
This is our official website. where you will get daily .current affairs,.i.e questions & answer with pdf file. Which are very much helpful and useful for upcoming all exams .KAS, IAS, UPSC, PSI, FDA, BANKING, SDA,Jobs, and all kpsc others Examinations. So keep visiting our official website. For daily very important updates which will help you in upcoming all examinations..
Name of Post: Ibps Recruitment 2020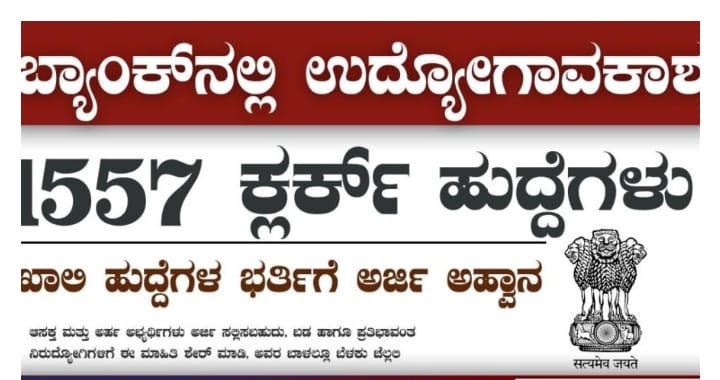 Number of Posts: 1557
Qualification: Any Degree
Type of File : Circular.

Language : Kannada./English

Which Department : Education/ Ibps Recruitment 2020
Announced :- Ibps Recruitment 2020 Apply online 1557
ಅರ್ಜಿ ಸಲ್ಲಿಸಲು :
ಕೊನೆಯ ದಿನಾಂಕ -02.09.2020
Last Date to Apply: 06.11.2020
Purpose of Information : Employee..
Information Size : 852kb.

Number of Pages : 04.

Scanned Copy : Yes.

Information Editable Text : No.
Password Protected : No Password
Image Available : Yes
Central OR State Information: State/ Central
Location : Karnataka

Published Date : 2020
Ibps Recruitment 2020
Information Term : Short
Download Link Available : Yes

Copy Text : No

Information Print Enable : Yes
File Quality : High

File size Reduced: No

File Password : No

Rate : Free of cost
For Personal Use Only
Use e- paper to Save water and Save life's.!!!!!!!
The Eligible and Interested Candidates
Read complete notification
given below and Apply Now
Who attained the eligibility in terms of educational qualifications by Date:- 06.11.2020.
Who could not register successfully from Date:- 02.09.2020 to 23.09.2020.
Activity Tentative Dates
On-line registration including Edit or Modification of
Application and Payment of Application
Fees or Intimation Charges date:-
23.10.2020 To 06.11.2020
IMPORTANT NOTE:
The last date of eligibility,
in terms of educational qualifications is changed to 06.11.2020. For
other terms &conditions,
candidates are requested to refer the Detailed Advertisement of
CRP CLERKS-X dated 01.09.2020.
Before registering online,
candidates are advised to read the detailed notification dated
01.09.2020 & follow the instructions mentioned therein.
Candidates are advised to visit the authorised IBPS website www.ibps.in
for details and
updates, regularly.
Download Notification

Apply Online
Recent Posts:
2. GOVT SCHEME
3. Spardha Vijetha Magazine 2020
4. Vidyagama Study Materials 2020
5. Spardha Vijetha Magazine 2020
6. PM Yojana