Canara Bank Home Loan 2022 and 2023
The Canara Bank Home Loan interest rate starts from 8.10% p.a. and the loan tenure is up to 30 years. The eligible home loan amount is 4 times your Gross Annual Salary Income and the sanctioned Gross Salary Income in selected cases for 5 years. Yes, the charge bank has a nominal processing fee of 0.50% of the loan amount taken (from Rs 1500 to a maximum of Rs 10,000) and there are zero prepayment charges for floating-rate home loans. Also, you can get up to 90% of the value of the property if it is a new house or flat.
Canara Bank offers loans up to Rs 15 lakh for any home repair or renovation. Individuals above 60 years of age can avail of Canara Bank home loan schemes, subject to certain terms and conditions.
Basava Vasathi Yojana Click here
Canara Bank Home Loan Interest Rates 2023
Canara Bank Housing Finance Plan 2022 and 2023 as per Repo Linked Lending Rates (RLLR). Below are the interest rates
Interest Rates: 8.10% p.a. Next
NMMS Scholarship 2022 National Means Cum Merit Scholarship 2022 Eligibility, Registration, Apply Online,
Canara Bank Home Loan EMI Calculator
| | | | |
| --- | --- | --- | --- |
| Loan Amount | 10 Year EMI | 20 Year EMI | 30 Year EMI |
| Rs.10 lakh | Rs.12,186 | Rs.8,427 | Rs.7,407 |
| Rs.20 lakh | Rs.24,371 | Rs.16,853 | Rs.14,815 |
| Rs.30 lakh | Rs.36,557 | Rs.25,280 | Rs.22,222 |
| Rs.40 lakh | Rs.48,743 | Rs.33,707 | Rs.29,630 |
| Rs.50 lakh | Rs.60,928 | Rs.42,134 | Rs.37,037 |
Pradhan Mantri Ujjwala Yojana 2022 Free Gas Connection Apply Online
The EMI of Canara Bank's home loan scheme is Rs 1 lakh each. 741, which is the lowest EMI of the bank. The loan EMI amount is calculated based on the loan amount, loan tenure, and an interest rate of around 8.10%.
Canara Bank Home Loan Eligibility Criteria
| Eligibility criteria | Requirements |
| --- | --- |
| min. age | 21 years |
| Maximum age | 70 years |
| Residency status | India or Non-residents of India |
| Type of employment | Salaried or Self-employed or Businessmen or Professionals |
Canara Bank Home Loan Schemes
The bank has an exclusive range of home loans to meet all the requirements. They are Canara Housing Loan, Canara Site Loan, Canara Home Loan Plus, and Home Improvement Loan.
Interest Rate:- 8.10% p.a. to 10.30% p.a.
Processing Charge:- 0.50% (Minimum amount Rs.1,500 and maximum amount Rs.10,000)
To buy sites (land) sold especially by a state or central government, a town planning department, or a government organization.
Additional housing finance can be taken for the construction of houses on site
Repayment period up to 10 years
Atal Bihari Vajpayee Scholarship 2022 Apply Online, Application, Registration, Last Date, Eligibility
Canara site loan
Interest Rate: R= 9.35% to R= 10.40% p.a.
Processing Fee: 0.50% (Minimum amount Rs.1,500 and Maximum Rs.10,000)
Specifically for the purchase of sites sold by State/Central Governments, Town Planning Departments, or any Government Govt. organization
Additional housing finance can be taken for the construction of houses on site
Repayment period up to 10 years
Canara Home Loan Plus
Interest Rate: 8.85% p.a. to 10.90% p.a.
Processing Fee: Not Applicable
The additional amount on an existing home loan from a bank
Available only to individuals with good repayment history for the last 1 year
Available as loan tenure of up to 10 years and overdraft for up to 3 years
Karnataka Construction Workers Child Scholarship 2022, Apply Online, Status, Registration, Application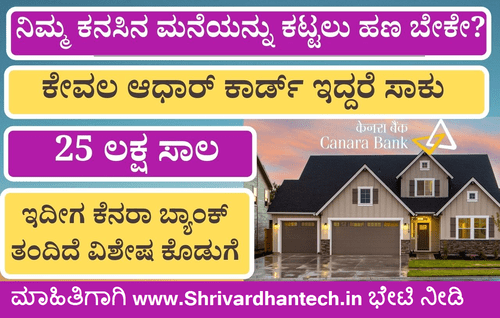 Canara Bank Home Improvement Loan
Interest Rate: The rate is 10.80% p.a. the rate is 12.80% p.a.
Processing Charge: 0.50% (Minimum amount Rs.1,500 and maximum amount Rs.10,000)
Also available for NRIs
On top of the existing home finance from the bank Rs. Maximum loan of 2 lakhs
Repayment period up to 5 years
Pradhan Mantri Kisan Samman Nidhi Scheme, PM Kisan – Pmkisan.gov.in Registration, Check Beneficiary Status, 12th Installment Update – Complete EKYC
Canara Mortgage
Interest Rate: The rate is 11.35% per annum. The rate is 13.40% per annum. next
Processing Fee: 0.50% (Minute Amount Rs.5,000)
Received by individuals for non-business purposes only to meet urgent financial needs.
Maximum loan Rs.10 crore
Repayment period up to 10 years
Documents Required to Apply for Home Loan
Duly filled application form with 2 passport size photographs
sale deed and agreement of sale
Bank asset valuation report or full cost estimate
Legal Verification Report, Property Tax Payment Receipt, EC of Last 13 Years, Account and Permission for Mortgage
proof of age
Passport or PAN card / any other certificate from the authority
proof of identity
proof of residence
Passport/Driving License/Voter ID/Ration Card/Telephone Bill
income proof
Salary slip of last 3 months
Form 16 for the last 2 years
Bank statement for the last 6 months
Identity proof (Anyone)Valid passport
PAN Card
Driving license
Voter's ID
Aadhaar Card
Address proof (Any one)Aadhaar Card
PAN Card
Copy of utility bills
Voter's ID
Driving license
Valid passport
Income proof (Any one)Salaried individuals salary/Employment Certificate
Recent salary slips
Latest Form No.16
Self-employed individualsITAO/IT Returns of the last 3 assessment years
Letter about the nature of the business, type of organization, year of establishment, etc.
Last 3 years Balance Sheet and P&L Account
Other documents2 passport-sizes photos of the applicant/guarantor
Filled application form
Sale Deed
Agreement for Sale
Approved plan for the proposed construction/extension/addition (Duplicate copy)
Detailed cost estimate/valuation report designed by Bank's Architect/Panel Chartered Engineer
Allotment letter of Co-operative Housing Society/Apartment Owners' Association/Housing Board/NOC from the Society/Association/Builders/Housing Board
Legal Scrutiny Report
NIL Encumbrance Certificate (EC) for the past 13 years
Property Tax paid receipt
Khata Certificate, Khata Extract
Permission for the mortgage, wherever necessary
Cost estimates and Proforma Invoices
Lease Deed copy, if applicable
Valuation Report of the property from the Panel Valuer of the bank
Documents for NRIs

Identity proof: Copy of the first 4 pages of passport & the page with visa stamp, OR IC/PIO card
Work permit card
Short profile of the applicant & employer
Employment contract copy
Salary Certificate copy attested by Indian Embassy or Consulate or Employer.
Copy of identity card from current employer
Proof of income for self-employed businessmen and professionals
Information about past employment
Last 6 month's bank account passbook or statement
Passbook or account statement of the overseas bank with savings and salary details
Residence proof: Driving license or utility bills
Continuous Discharge Certificate (CDC) copy – for merchant navy employees
Original NOC under the Provisions of ULC Act
How To Fill Canara Loan Registration Form

IF You are Satisfied By our www.shrivardhantech.in (Website) Kindly requesting Share. Sharing isCaring (Thank you for sharing ).

Karnataka Free Laptop Scheme Details Eligibility How To Apply And Application Form Required Documents
Canara Bank Home Loan FAQs
Can I apply for a home loan from Canara Bank online?
The bank does not allow direct online applications as of now.
Does the bank charge additional interest on the loan chosen to buy another home property?
No, you will not be charged any additional interest in case of money is borrowed for the second house.
How to transfer your existing home loan to Canara Bank?
You can transfer your existing housing loan to Canara Bank by applying for the balance transfer option. Before applying, contact the operator to know the interest rate and other terms and conditions.
How do I approach the customer care department of Canara Bank to resolve my home loan-related queries?
Canara Bank customer care executive can be contacted on the toll-free number 1800-425-0018. The number can be accessed from any part of India.