BWSSB Recruitment 2021 Apply for 4547 Group A, B, C, D Posts
BWSSB Recruitment 2021: Candidates who are looking for Bangalore Water Supply and Sewerage Board (BWSSB) official notification, here is good news for you. BWSSB has announced the draft notification for Recruitment (BWSSB)and Promotion Regulations on 17th July 2021.
Any objection or suggestion that the Board may receive from any person, which shall be considered by the BWSSB Board before the expiry (within 30 days) in respect of the said draft.
BWSSB Recruitment 2021 Apply online , Click the link below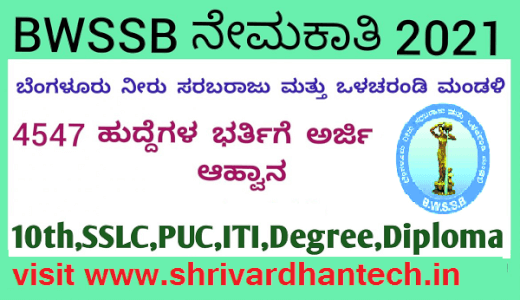 BWSSB Recruitment 2021 Notification
Organization Name is The Bangalore Water Supply and Sewerage Board (BWSSB)
No. of Posts: 4547 (Sanctioned Strength)
Job Location: Bangalore – Karnataka
Name of the Posts : Group A, B, C, D Posts
BWSSB Recruitment 2021 Apply
Salary : Rs.27750-86910/- per month
Age Limit: Minimum 18 years and Maximum 35 years.
age relaxation
SC / ST / BT Candidates: 05 Years
OBC / BC Candidates: 03 Years
Qualification: Candidate should have completed any Graduation.
Application Fee / Exam Fee:
SC/ST/Cat-I, Ex-MP/PH: Fee Waiver
For Others (Group B): Rs.600/-
For Others (Group C): Rs.400/-
For Others (Group D): Rs.300/-
Selection Process : KARNATAKA TET STUDY MATERIALS CLICK HERE
Medical Examination, Written Examination and Interview
How to apply online for BWSSB Recruitment?
Contestants are advised to visit Bangalore Water Supply and Sewerage Board i.e. HOME PAGE CLICK HERE
You will get the updates day to day news on the homepage itself
Multiple openings will scroll down on the page
Now, candidates need to calmly check the BWSSB Recruitment Notification
If you meet the eligibility criteria, click on BWSSB Online Application Form
To apply people need to fill the application form with some of your personal and business information
Make sure to check the application fee
Pay the fee through online mode
And now, upload the photo along with the required documents
Contenders have to double check the details twice and submit the BWSSB Application Form 2021 within the last date
Don't forget to take a print copy to proceed for further purpose
Those who need to know details can visit the official/ website advertisement.
Important Dates:
Notification Released: 20 July 2021
Important Links:
Official Notification: Click Here
Official Website: Click Here
BWSSB Vacancy Details BWSSB Recruitment 2021 Apply
| | |
| --- | --- |
| Post Name | No of Posts |
| Engineer in Chief | 1 |
| Chief Engineer | 6 |
| Additional Chief Engineer | 13 |
| Personnel Manager | 1 |
| Executive Engineer | 43 |
| Assistant Controller (Accounts)/Accounts Officer | 9 |
| Assistant Executive Engineer/Technical Officer | 137 |
| Assistant Personnel Manager | 1 |
| Assistant Welfare Officer | 1 |
| Assistant Accounts Officer | 16 |
| Assistant Store Officer | 2 |
| Assistant Marketing Officer | 1 |
| Assistant Public Relation Officer | 1 |
| Assistant Law Officer | 1 |
| Chairman | 1 |
| Chief Administrative Officer and Secretary | 1 |
| Financial Advisor and Chief Accounts Officer | 1 |
| Law Officer | 1 |
| Administration Officer | 1 |
| Public Relation Officer | 1 |
| Assistant Labour Commissioner | 1 |
| Medical Officer | 1 |
| Senior Labour Inspector | 1 |
| Revenue Recovery Officer | 1 |
| Assistant Engineer | 285 |
| Assistant Chemical Examiner | 2 |
| Accounts Superintendent | 56 |
| P.S to Chairman | 1 |
| Senior Manager | 19 |
| Senior Manager (Public Relations) | 1 |
| Store Superintendent | 10 |
| Superintendent/Revenue Manager | 46 |
| Senior Personal Assistant | 4 |
| Chemist Grade-I | 5 |
| Junior Engineer | 135 |
| Junior Engineer (Operation) | 20 |
| Junior Personal Assistant | 6 |
| Senior Assistant and Special Grade Typist | 10 |
| Senior Assistant | 116 |
| Special Grade Driver | 12 |
| Senior Sanitary Inspector | 2 |
| Chemist Grade-II | 6 |
| Senior Water Inspector | 40 |
| Stenographer | 10 |
| Assistant and Senior Typist | 21 |
| Assistant | 204 |
| First Division Store Keeper | 13 |
| Senior Driver | 20 |
| Sanitary Inspector | 17 |
| Electrician Grade-I | 7 |
| Senior Work Inspector | 3 |
| Lab Assistant Grade-I | 8 |
| Water Inspector | 200 |
| Senior Operator | 22 |
| Sanitary Overseer | 47 |
| Electrician Grade-II | 13 |
| Operator | 65 |
| Senior Jamedar | 2 |
| Senior Fitter | 80 |
| Junior Assistant and Typist | 101 |
| Junior Assistant | 324 |
| Second Division Storekeeper | 19 |
| Telephone Operator | 2 |
| Driver | 74 |
| Sanitary Maistry | 132 |
| Lab Assistant Grade-II | 10 |
| Meter Reader | 540 |
| Jamedar | 4 |
| Senior Dafedar | 2 |
| Fitter | 220 |
| Senior Cook | 1 |
| Senior Watchman | 7 |
| Senior Attender | 25 |
| Sanitary Worker | 500 |
| Dafedar | 1 |
| Cook | 4 |
| Junior Attender | 105 |
| Watchman | 6 |
| Sweeper | 25 |
| Helper | 500 |
| Valveman | 150 |
| Junior Helper | 75 |
BWSSB Salary Details :BWSSB Recruitment 2021 Apply
Post Name
Salary (Per Month)
Engineer in Chief
Rs.118310-161690/-
Chief Engineer
Rs.99410-151010/-
Additional Chief Engineer
Rs.86910-143890/-
Personnel Manager
Rs.82450-140330/-
Executive Engineer
Assistant Controller (Accounts)/Accounts Officer
Assistant Executive Engineer/Technical Officer
Rs.59650-127400/-
Assistant Personnel Manager
Assistant Welfare Officer
Assistant Accounts Officer
Assistant Store Officer
Assistant Marketing Officer
Assistant Public Relation Officer
Assistant Law Officer
Chairman
As per BWSSB Norms
Chief Administrative Officer and Secretary
Financial Advisor and Chief Accounts Officer
Law Officer
Administration Officer
Public Relation Officer
Assistant Labour Commissioner
Medical Officer
Senior Labour Inspector
Revenue Recovery Officer
Assistant Engineer
Rs.53250-115460/-
Assistant Chemical Examiner
Accounts Superintendent
P.S to Chairman
Senior Manager
Senior Manager (Public Relations)
Store Superintendent
Superintendent/Revenue Manager
Rs.50050-109760/-
Senior Personal Assistant
Chemist Grade-I
Junior Engineer
Rs.39170-99410/-
Junior Engineer (Operation)
Junior Personal Assistant
Senior Assistant and Special Grade Typist
Senior Assistant
Special Grade Driver
Senior Sanitary Inspector
Chemist Grade-II
Senior Water Inspector
Stenographer
Rs.34510-94410/-
Assistant and Senior Typist
Assistant
First Division Store Keeper
Senior Driver
Sanitary Inspector
Electrician Grade-I
Senior Work Inspector
Lab Assistant Grade-I
Water Inspector
Senior Operator
Sanitary Overseer
Rs.30610-91910/-
Electrician Grade-II
Operator
Senior Jamedar
Senior Fitter
Junior Assistant and Typist
Rs.27750-86910/-
Junior Assistant
Second Division Storekeeper
Telephone Operator
Driver
Sanitary Maistry
Lab Assistant Grade-II
Meter Reader
Jamedar
Senior Dafedar
Fitter
Senior Cook
Senior Watchman
Senior Attender
Rs.23850-62850/-
Sanitary Worker
Dafedar
Cook
Junior Attender
Rs.23200-61250/-
Watchman
Sweeper
Helper
Valveman
Junior Helper
Rs.20500-50050/-
BWSSB Recruitment 2021 Apply
Indian Post Jobs CLICK HERE