Hello Everyone Welcome to shrivardhantech.in
Heading : ae and je recruitment pwd 2021 karnataka Vacancy list
This is our official website. where you will get daily .current affairs,.i.e questions & answer with pdf file. Which are very much helpful and useful for upcoming all exams .KAS, IAS, UPSC, PSI, FDA, BANKING, SDA, Jobs, and all kpsc other Examinations. So keep visiting our official website. For daily very important updates which will help you in upcoming all examinations..
Type of File : Circular.
Language : Kannada/English
Which Department : Education/
Announced :- ae and je recruitment pwd 2021 karnataka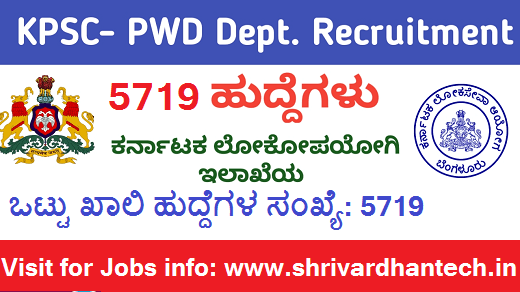 Purpose of Information : Employee..
Information Size : 852kb.
Number of Pages : 08.
Scanned Copy : Yes.
Information Editable Text : No.

Location : Karnataka
Published Date : 2021
Information Term : Short
Download Link Available : Yes
Copy Text : No
Information Print Enable : Yes
File Quality : High
File size Reduced: No
File Password : No
Rate : Free of cost
For Personal Use Only
Use e- paper to Save water and Save life's.!!!!!!!
ರಾಜ್ಯದ ಜಲ ಸಂಪನ್ಮೂಲ ಇಲಾಖೆಯಲ್ಲಿ ಖಾಲಿ ಇರುವ ಹುದ್ದೆಗಳ ಅಧಿಕೃತ ಮಾಹಿತಿ ಇಲ್ಲಿದೆ.!!
Asst. Engineer= 1020
Junior Engineer=697
First Division Asst.=399
Second Division Asst.= 467
Revenue Inspector= 21
First division
Revenue Surveyor=169
First Division Account Asst.=80
Second Division Account Asst.=142
ಸೇರಿದಂತೆ ಒಟ್ಟು ಖಾಲಿ ಹುದ್ದೆಗಳ ಸಂಖ್ಯೆ: 5719
ಚುಕ್ಕೆ ಗುರುತಿಲ್ಲದ ಪ್ರಶ್ನೆಯೊಂದಕ್ಕೆ 21-09-2021ರಂದು ನಡೆದ ವಿಧಾನಮಂಡಲದ ಅಧಿವೇಶನದಲ್ಲಿ ಮಾನ್ಯ ಜಲ ಸಂಪನ್ಮೂಲ ಸಚಿವರು ನೀಡಿರುವ ಲಿಖಿತ ರೂಪದ ಅಧಿಕೃತ ಉತ್ತರವಿದು!!
[su_button url="https://drive.google.com/file/d/19JKhnPcbBLE36BPjNPdxoV3zEDx9jAYo/view?usp=sharing" target="blank" style="bubbles" background="#ef4f2d" size="10″ wide="yes" center="yes" radius="round" icon_color="#ed821e" text_shadow="0px 0px 0px #000000″]AE & JE Vacancy List Download [/su_button]
Sharing is Caring PLEASE SHARE